Rarely do we have an opportunity to see a side-by-side pavement preservation comparison — one side of a road treated and one side not. The road shown below offers an indisputable picture of the benefits of pavement preservation.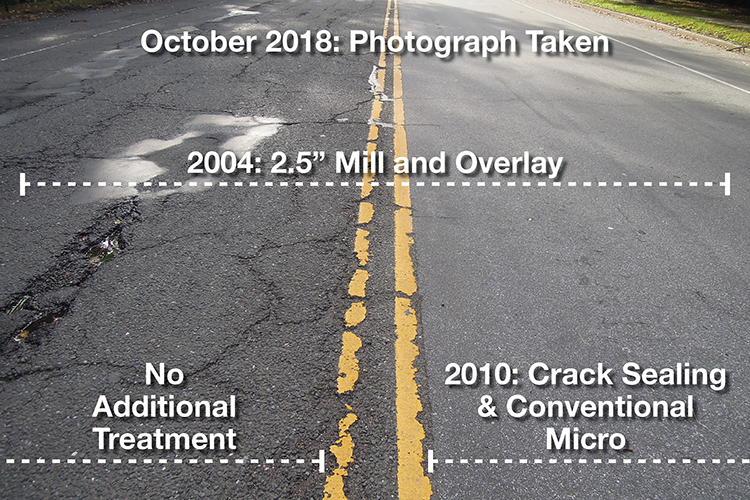 This road is the border between two cities and was constructed in a joint project funded by both cities. Both sides were built from the same mix, by the same contractor, at the same time. The city on the left has not treated its side of the road since a mill and overlay in 2004. The city on the right did crack sealing and conventional micro in 2010.
The story gets even more interesting as the city conducts a study comparing conventional micro to highly modified micro.
eFlex Stands Strong, Passes Test in New England
In the City of Fairfield, Connecticut, the use of snowplows on roadways is essential to ensuring safe driving when harsh nor'easter ice and snowstorms come roaring up the East Coast. These snowplows, while important, can wreak havoc on the condition of a road over time that is not properly preserved and maintained.
The City would typically apply conventional micro surfacing systems to treat these roads, but were approached with an opportunity to test a highly polymer modified micro surfacing developed to provide an even tougher, longer lasting solution to combat rutting from chains and delamination, among other distresses, caused by the constant snowplowing and pounding summer-time beach traffic.
Conventional Micro Surfacing
Micro surfacing is applied to provide a durable, rut-resistant and high-friction wearing course in order to protect the underlying asphalt surface, preserve the road and extend its service life for a number of years. However, micro surfacing treatments are known to be susceptible to raveling, scuffing and tearing in the vulnerable stage early after application. This can be caused by several factors including extremely high temperatures, repeated pressure and power steering burns from heavy trash trucks and city buses.
So, why use it? Generally speaking, agencies have found the long-term benefit of increased durability (as the components of the system begin to stiffen over time) to be effective, outweighing the short-term inconvenience.
Benefits of Highly Modified Micro Surfacing
eFlex premium micro surfacing is a stronger, highly polymer modified micro surfacing system that would protect Fairfield's asphalt pavements and increase the durability of roads within their network. Increased levels of polymer modification in eFlex would offer greater resistance to damage that can occur soon after conventional micro surfacing applications by providing a tougher surface in a shorter period, minimizing the road's window of vulnerability. And it only gets better from there. "When we initially came out with eFlex, we interviewed all the customers who had tried the product and the one single word that came across in every interview, without prompting, was the word, tougher," said Scott Metcalf, Vice President of Pavement Preservation & Specialty Products. "I thought that was pretty amazing."
Flex Time
Upon reviewing product test sections, Scott Bartlett, Superintendent of Fairfield Public Works, decided to do a side-by-side and end-to-end test section of the eFlex product on three roads within the City's network—Penfield Road, Rowland Road and Old Post Road—in order to evaluate the effects of four different micro surfacing treatments over time. On Penfield Road and Rowland Road, eFlex, Conventional Micro Surfacing, eFlex with fibers, and Conventional Micro Surfacing with fibers were each applied to a section for comparison purposes. Fibers were applied to some sections and not others to determine whether their addition would lead to a greater reduction in cracks over time. On Old Post Road, one section would be treated with eFlex and another section with eFlex and the addition of fibers for an end-to-end comparison.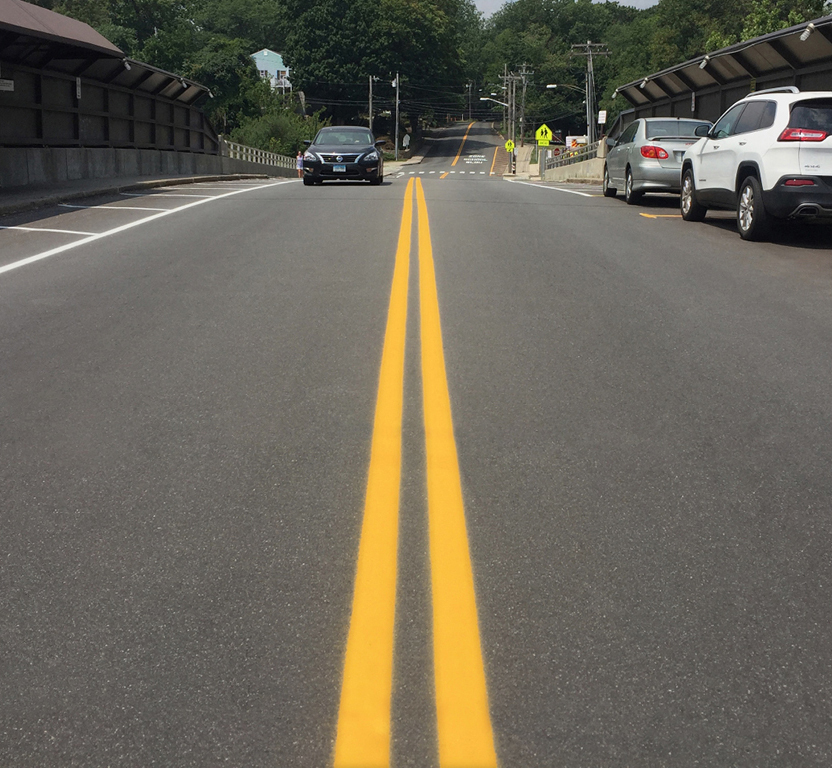 Caption: eFlex-treated road in Fairfield, CT, two years after application.
Each of the applications was applied in double lifts, resulting in a 30 pound per square yard of dry aggregate application on each road. The eFlex-treated roads showed 40% less scuffing weeks after application. It was noted that the addition of fiber in both the eFlex polymer modified and the conventional micro surfacing systems had no significant impact on the occurrence of cracks.
It Keeps Getting Better
"I believe eFlex is stronger, therefore we have less initial scuffing as well as longer-lasting performance," said Scott Bartlett. "I estimate six years (of life extension) with conventional micro surfacing and feel I can get up to 10 years with eFlex."
Based upon the results of the eFlex-treated roads in comparison to the roads treated with the conventional micro surfacing system, Fairfield found eFlex to not only reduce initial scuffing, but also hold color longer and provide an increase in the life cycle. The City experienced a 70% reduction in post project sweeping and the severity of power steering burns was also dramatically reduced post application. In fact, two years later, the roads treated with eFlex are on target to meet Fairfield's initial desire for longevity and protection of their investment in their network.
"We have successfully used this product across our entire network of streets and are confident it will work on higher traffic roads as well as heavy truck routes … (as we are seeing) no sign of shoving or rutting," said Scott Bartlett.
The Right Treatment on the Right Road at the Right Time


Figure 1. PCI of treated roads at the time of application and as of June 2017.
The City of Fairfield was so pleased with the performance of the highly modified micro surfacing that they have changed their micro specifications to 100% eFlex. They have kept a log of the performance of roads within their network that have been treated with eFlex, as well as one road treated with a conventional hot mix overlay and a fabric interlayer, for comparison purposes. Figure 1 (above) shows the PCI of various roads from the time of application to June 2017. Results from these eFlex projects show highly modified micro surfacing is the proper solution for tougher roads long term, and that treating roadways at the proper time in their life cycles can results in significant improvements in their PCIs.