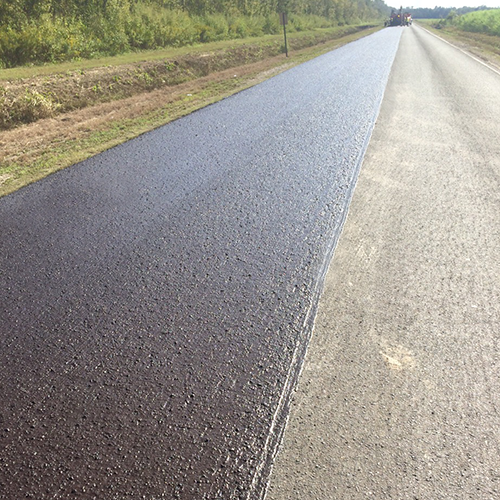 Background
St. Louis Road in Plaquemine, LA, was beginning to experience cracking after five years of service due to general wear and tear, while 3 ½ miles away, Evergreen Road was faced with cracks and potholes due to heavy traffic loads. Both roads were due for maintenance in order to retain good quality and performance while extending their remaining service years.
Area Sales Managers Mark Hartman and Jerry Walley with Ergon Asphalt & Emulsions, Inc., (Ergon A&E), along with Ryan Casto with Material Resources, Inc., all recognized an opportunity to introduce the benefits of pavement preservation treatments in the area. The Iberville Parish Public Works Division (Iberville Parish) was familiar with the idea of pavement preservation, but had not taken full advantage of its benefits.
In the past, to correct minor distresses like those on St. Louis and Evergreen Roads, they would apply a crack seal treatment. Crack sealing is an excellent start, but there are other destructive distresses that crack sealing is not designed to address. The only other option they were aware of was to apply a hot mix asphalt overlay, which is a more expensive maintenance route better suited for a road with more severe distresses. The parish would have lost money applying another overlay so early in the roads' service lives. Hartman and Walley suggested a micro surfacing treatment as the best solution to repair, restore and preserve both roads, before they became bigger, more costly problems. Compared to a 1" overlay, treating the two distressed roads with micro surfacing would save Iberville Parish approximately $188,000 dollars in repair costs, allowing these funds to be used on other streets.
Micro surfacing is designed to correct rutting and minor distresses, while increasing surface friction, enabling the road to withstand moisture and heavy traffic loads. Iberville Parish agreed to try the treatment and selected Ergon A&E to supply CSS-1HP micro surfacing emulsion for the applications.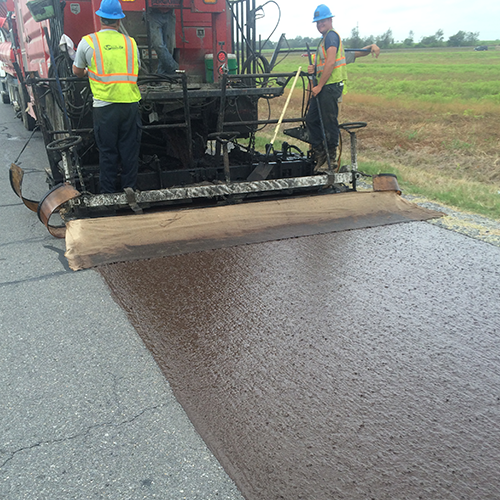 A Competent Solution
Micro surfacing is an engineered cold mix surface treatment that has been successfully applied in the U.S. for over 30 years. The polymer modified emulsion is chemically tailored to the specific aggregate selected in order to deliver the desired cure properties for specific project conditions. The result is a new road surface that can be readily released to return traffic, minimizing delay and inconvenience for the traveling public.
Note: It is recommended that cracks ¼" or larger be sealed prior to micro surfacing for best results.
With this being the parish's first micro surfacing project, the outcome would be crucial in establishing micro surfacing as a dependable solution and Ergon A&E as a reliable resource for advice on future road projects. The results of the treatments would also allow Iberville Parish to understand the scope of micro surfacing benefits on varying road types, as St. Louis Road is moderately trafficked, and Evergreen Road is subject to heavier industrial traffic leading to and from various plants in the area.
Application Highlights: Off to a Good Start
With temperatures in the 90s, the contractor, T.L. Wallace Construction, Inc., began construction on 1.5 miles of St. Louis Road. On the first day, they treated the road with a single lift of micro surfacing from east to west, with traffic shifted to one lane. The next day, they treated the road from west to east. Each section was opened to general traffic approximately one hour following application.
Three days after completing St. Louis Road, a double lift of micro surfacing was applied to 2 ½ miles of Evergreen Road. Potholes were repaired prior to application using a conventional cold patch. The road was returned to traffic one hour after treatment.
Engineers followed state specifications to determine the micro surfacing application rates.
To Be Continued…
Micro surfacing provided a more stable and better-looking wearing course on both roads and is projected to extend the service lives of these roads for 6-8 years.