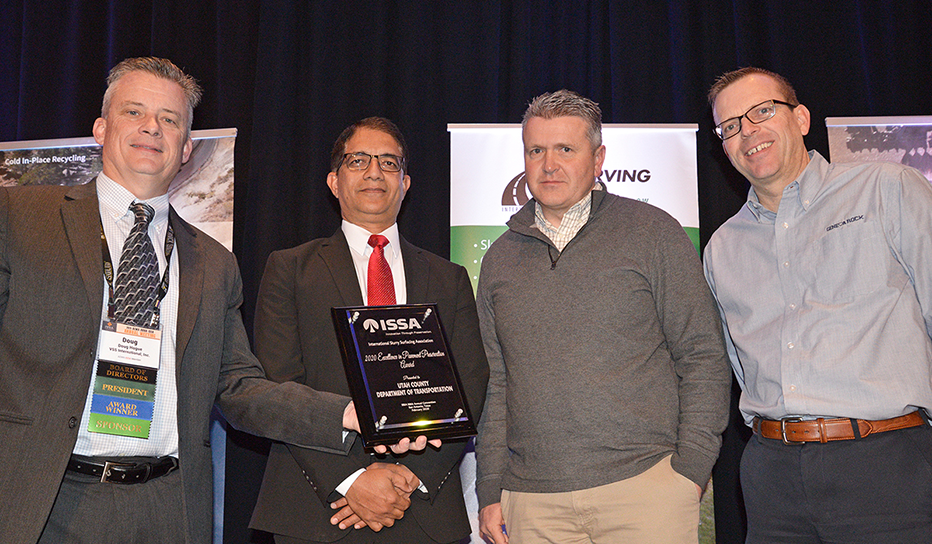 Background: Congratulations to the Utah Department of Transportation (UDOT) and contractor Geneva Rock, winners of the International Slurry Surfacing Association (ISSA) 2020 Excellence in Pavement Preservation Award.  This $2.6 million high-volume preservation project on 10 miles of SR-9, leading from the City of Hurricane to Zion National Park, was part of UDOT's pavement preservation plan.
Distresses to the existing hot mix asphalt included block cracking, thermal cracking and raveling. Oxidation was prevalent, but the pavement was structurally sound. The long-term goals for the project included long-lasting mass crack treatment, restoration of oxidized pavement, and extended service life of 6-10 years.
Although UDOT has practiced the concept of pavement preservation for over 30 years – utilizing micro surfacing and chip seals – with the state of SR-9 at the time, they would have called for either a hot mix mill and fill or overlay. While both methods can be beneficial, neither was the most cost-effective method of treatment in this instance, since they wanted to restore and extend the life of the existing hot mix before reapplication was necessary.
Application Highlights: They decided to go with an innovative scrub/micro combination, or a cape seal. The area with more significant distress was treated first with 460,000 square yards of scrub seal, followed by 515,500 square yards of micro surfacing over the entire project. Incidentals included pedestrian ramps, signs, striping, HMA patching and rumble strips. Work was done during the day and at night. At least a single lane in each direction had to be maintained at all times due to the heavy traffic volumes experienced on SR-9.
This was the first scrub seal completed for UDOT, and they used the SR-9 project as a test to determine if this treatment would be suitable to rehabilitate oxidized and cracked asphalt surfaces in high-volume areas.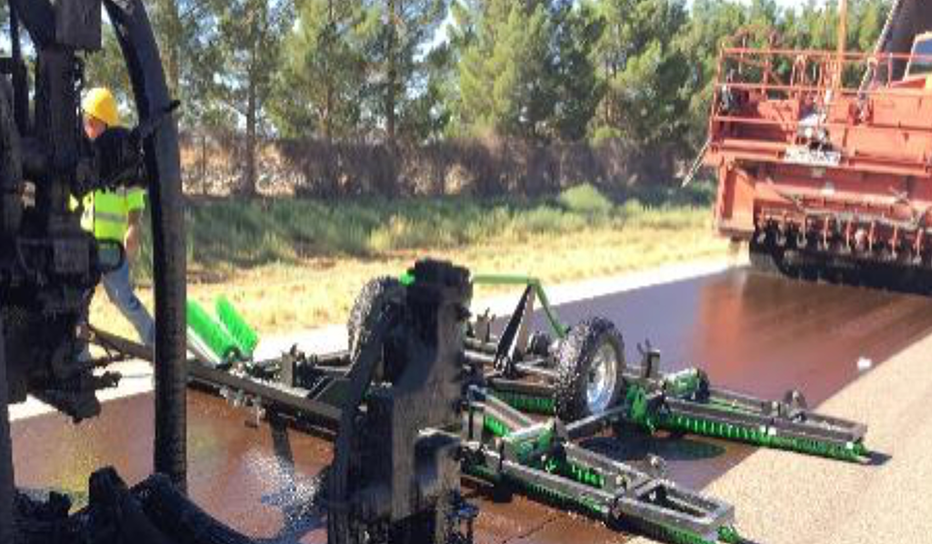 The scrub seal emulsion, CMS-1PC, was applied at 0.31 gallons per square yard, followed by a scrub seal broom (Greensbroom) and aggregate which was applied at 16-18 pounds per square yard. The micro surfacing was applied at 25.5 pounds per square yard using CQS-1HP emulsion at a rate of 12.5% with a Type III aggregate  at 25.5 pounds per square yard. All aggregates were provided by Interstate Rock Products, and emulsions came from Ergon's Las Vegas, Nevada, facility.
With a focus on quality control, UDOT sampled emulsions twice per load. Aggregates were sampled every 500 tons for both scrub and micro. The contractor and the aggregate producer also tested aggregate during production for consistent gradation. Emulsion was tested by Ergon per the quality control plan and formulated for optimum field performance.
Cost Savings: Not only was UDOT able to save 35% over the typical cost of a mill and fill, which has allowed them to treat even more miles within their network – but the products and treatments used had a positive environmental impact as well, with less energy and less material needed for a cape seal than would have been required for a mill and fill.
Results: SR-9 has a fresh, new look and is now more durable and able to withstand pressure from repeat and heavy traffic.