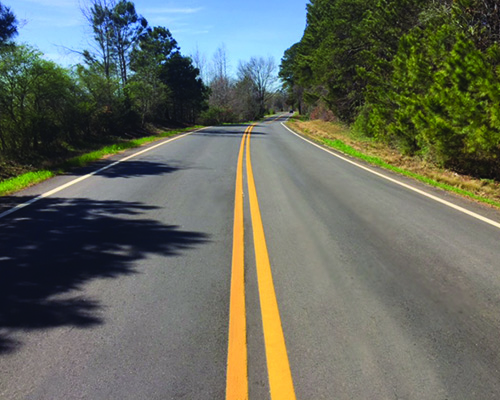 Cracks in the road can lead to big problems like water penetration into the base, which can lead to more costly distresses and worse case, total section loss.
Background: Cracked Under Pressure
State Route 82 (SR 82) is a heavily trafficked road in Jackson County, Georgia, that leads to and from a number of commercial warehouses for companies such as Kubota and HomeGoods. Its Hot Mix Asphalt (HMA) Superpave surface was nearly 20 years old and overdue for maintenance. The Georgia Department of Transportation (GDOT) originally intended to treat four miles of SR 82, which suffered from heavy block, load and fatigue cracking, with a mill and fill application. Ergon Asphalt & Emulsions, Inc., (Ergon A&E) suggested applying a rejuvenating scrub seal using eScrub emulsion to seal the cracks rather than just bridge them with a mill and fill, which is twice the cost of a scrub seal.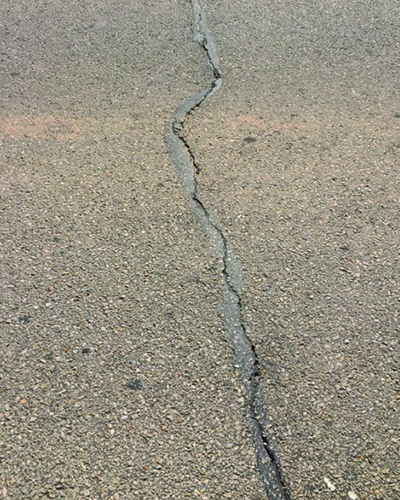 Cracking on SR 82 prior to Scrub Seal with eScrub.
A Time to Mill and a Time to Scrub
While a mill and fill application can produce satisfactory results, it was not the most economical solution for this particular project. By applying a scrub seal on SR 82, leveling the roadway and adding a HMA surface (as opposed to milling out four inches of bad mix and replacing 440 pounds per square yard of plant mix), GDOT would save approximately $200,000.
One Clean Sweep
Ergon A&E's eScrub is a rejuvenating emulsion that not only seals mass cracks, but also, due to its high levels of polymer modification, restores quality and durability to the road. In the scrub seal process, emulsion is sprayed onto the distressed road surface via distributor truck with a mechanized scrub broom attached to ensure emulsion is forced into the cracks. Aggregate is then spread over the road and compacted using pneumatic tired rollers. GDOT agreed to try scrub sealing the distressed section of SR 82 with eScrub to see if it would in fact be the solution to fix their cracked up situation.
Application Highlights: Taking Care of Business
eScrub was applied at a shot rate of approximately 0.35 gallons per square yard followed by the spreading of #7 aggregate (or stone) at 20 pounds per square yard. GDOT leveled the scrub-sealed course with 9.5 mm HMA applied at 75 pounds per square yard, approximately ½ inch. This was nearly a two-week process. A few months later, as scheduled, the leveling course was topped with an inch of 12.5 mm HMA for the final riding course.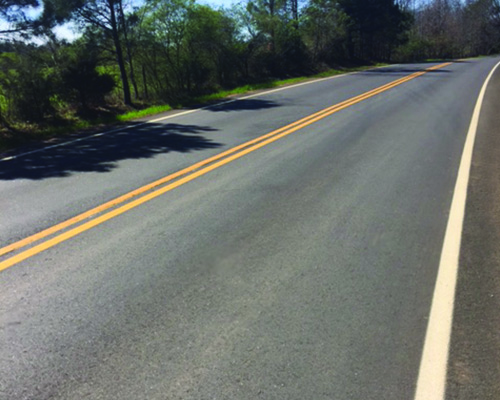 SR 82 after Scrub Seal application with eScrub.
Results
Eleven months after application, with the treated section of SR 82 safely guarded with a polymer modified, rejuvenating scrub seal and topped with up to 1½ inches of HMA, there are no signs of cracking.
Long-Term Strategy
GDOT has plans to duplicate this treatment on over 50 centerline miles of state roadways, continuing to employ a versatile treatment while deferring the costs of more intrusive measures.