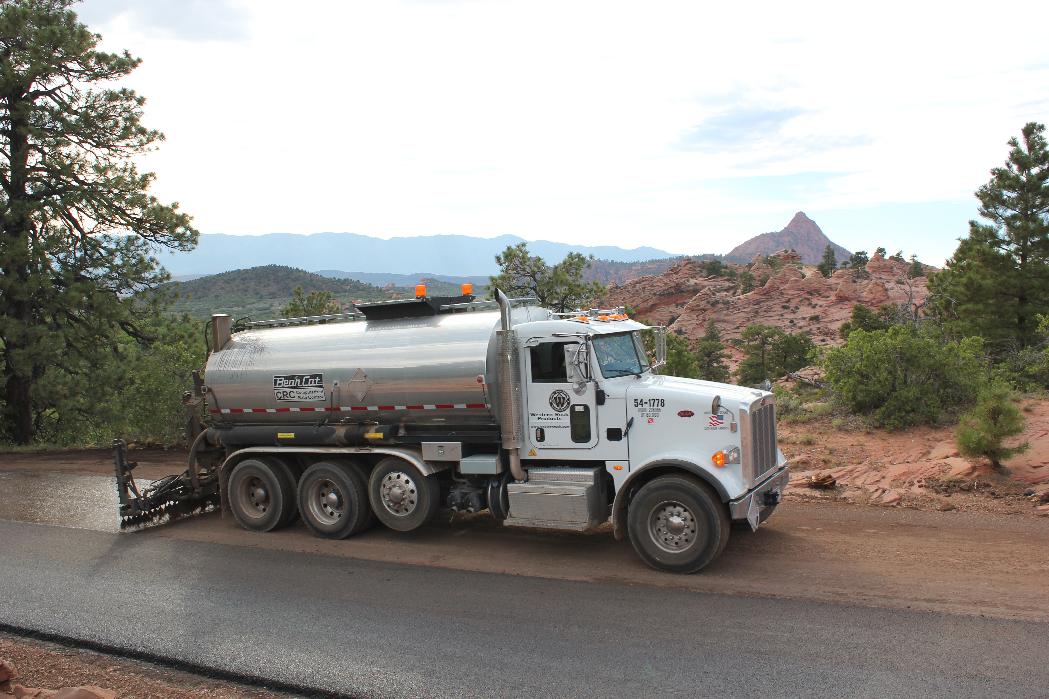 Background
Kolob Terrace Road winds through mountains and canyons of Zion National Park in Southwestern Utah. With massive drop-offs and no shoulder, the road is closed during winter months when covered with snow and ice. Following a spring thaw, officials found that deep thermal cracking and erosion had made it inadequate for public use.
A Stronger Solution
The Federal Highway Administration (FHWA), charged with planning and construction, sought a long-lasting, economical and prompt solution to widen and replace an 11-mile stretch of Kolob Terrace Road, creating a stronger and safer surface and extending its service life. Superpave® Hot Mix Asphalt (HMA), PG 64-28, was chosen as the new surface layer.
They then needed a product that would protect the new expanded road base during construction and provide a strong bond between the base and the HMA surface. After evaluating various primers, they chose Ergon Asphalt & Emulsions, Inc.'s ePrime for its dust-prohibiting qualities, eco-friendliness, low-track and rapid cure time.
ePrime is designed to protect the road base from moisture during the construction phase, its most vulnerable period. It also creates a bond between the base and subsequent asphalt layers to prevent slippage. Solvent-based cutbacks can provide similar results, but they are environmentally unfriendly as well as a health concern due to the use of kerosene in the emulsion compound of conventional prime coats. ePrime's solvent-free formula makes it environmentally friendly and less offensive to road crew workers. Its fast cure time also allows for same-day paving, usually within just a few hours of application.
"I wouldn't use anything else on a project like this," said Jared Bouy, Western Rock Superintendent. "I would use ePrime before MC70 any day. You would have to wait two to three days on MC70 to set, when you could spray ePrime in the afternoon and pave on the base the next morning."
Building the Base
Rees Construction, the primary contractor on the job, milled the existing road surface to expose the underlying base. Considerable time was taken to create a more stable road base, and in some areas GeoTech metal mesh fabric was installed to help expand and further reinforce the new base in preparation for the HMA application.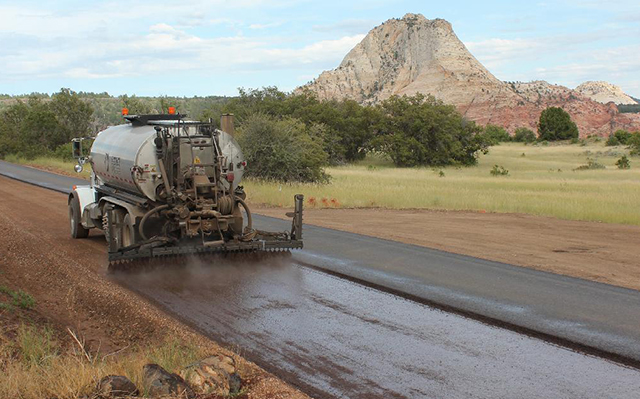 Application Highlights
On the first day of application the ambient temperature was 95°F and the land surface temperature was approximately 110°F. The contractor selected for the ePrime application and paving portion of the project, Western Rock Products, began preparations by diluting the priming emulsion at a ratio of 1:2. After four test sections to optimize application rates, HMA design and rolling patterns, the ePrime treatment was applied at a shot rate of 0.15 gallons per square yard over the eastbound lane of the first 1.5-mile stretch, beginning at approximately 1:00p.m. By 7:00p.m. that evening, the road was reopened to traffic.
The next day, Western Rock paved over the initial section and then applied ePrime in the westbound lane around 4:00p.m. The construction crew was able to begin paving the next morning. In just two and a half days Western Rock had 1.5 miles of the project primed and paved with a 2-inch lift.
Results: Better Road…Lower Price
Thanks to ePrime's rapid cure time, the project moved forward in a timely manner with minimum impact on the traveling public. Western Rock was pleased with how well ePrime held up, and Mike Dance, representative of Landmark Testing & Engineering, was particularly impressed with the speed of application and durability of ePrime.
Cost Savings
Using ePrime saved the FHWA $50,000 over the cost of traditional methods and provided Kolob Terrace Road a transformed surface with an expected service life of 30 years.