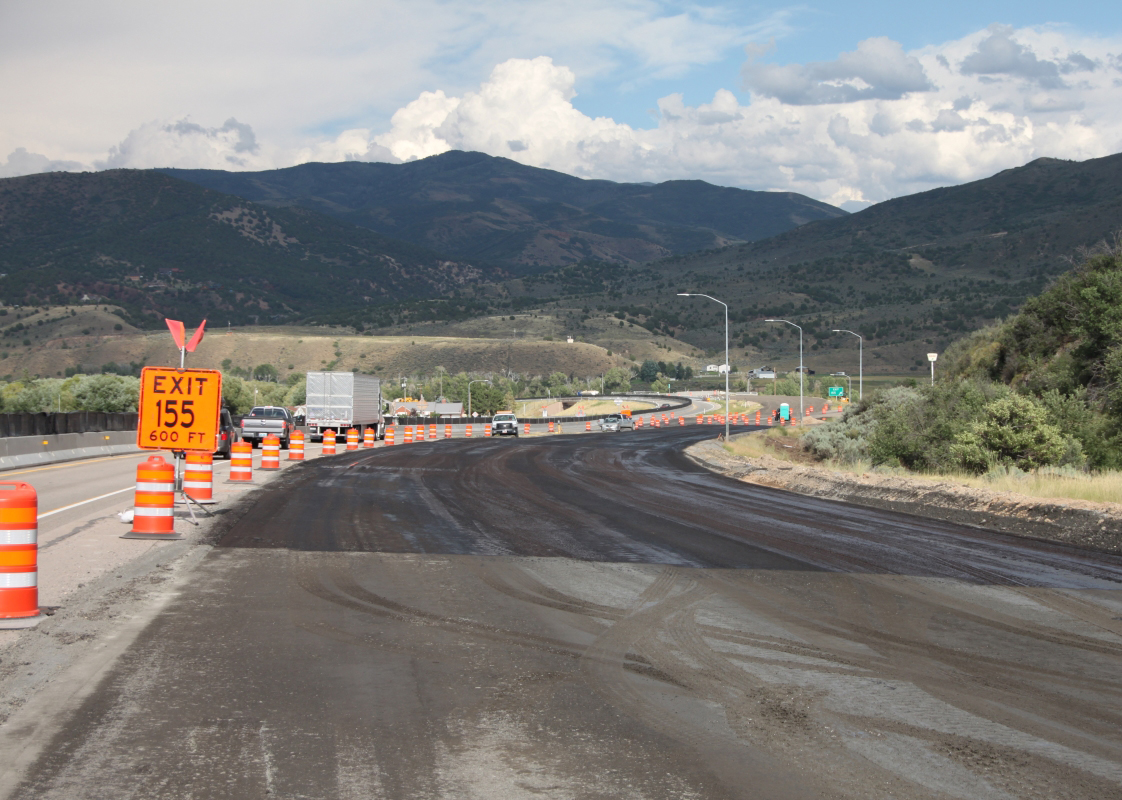 Background
I-80; 8-Miles Between Park City, Utah, and Coalville, Utah (Summit County)
Interstate 80 (I-80) runs through the mountains in Summit County, Utah. It has seen heavy traffic for years, especially from large semi-trucks heading east toward Interstate 84. This traffic, along with harsh mountain weather, led to rutting and cracking along several sections of the interstate. These distresses forced UDOT to make continual repairs, and the rutting in particular made the winding mountain road unsafe for commuters. To restore it, UDOT decided to use Cement Treated Asphalt Base (CTAB) followed by Portland Cement Concrete Pavement (PCCP). Typically, a traditional prime coat would be used in between these two layers to help bond them together. However, traditional prime coats are expensive, slow to cure and are not environmentally friendly. For Geneva Rock Products, Inc., the contractor on this project, the challenge was to apply the CTAB and PCCP to both the east and westbound sides of the road in a timely manner, while causing as little inconvenience to traffic as possible and maintaining a safe environment. Ergon Asphalt & Emulsions suggested ePrime Eco-Friendly Prime Coat as a cost-effective and superior alternative to traditional primer due to its solvent-free properties and fast cure times.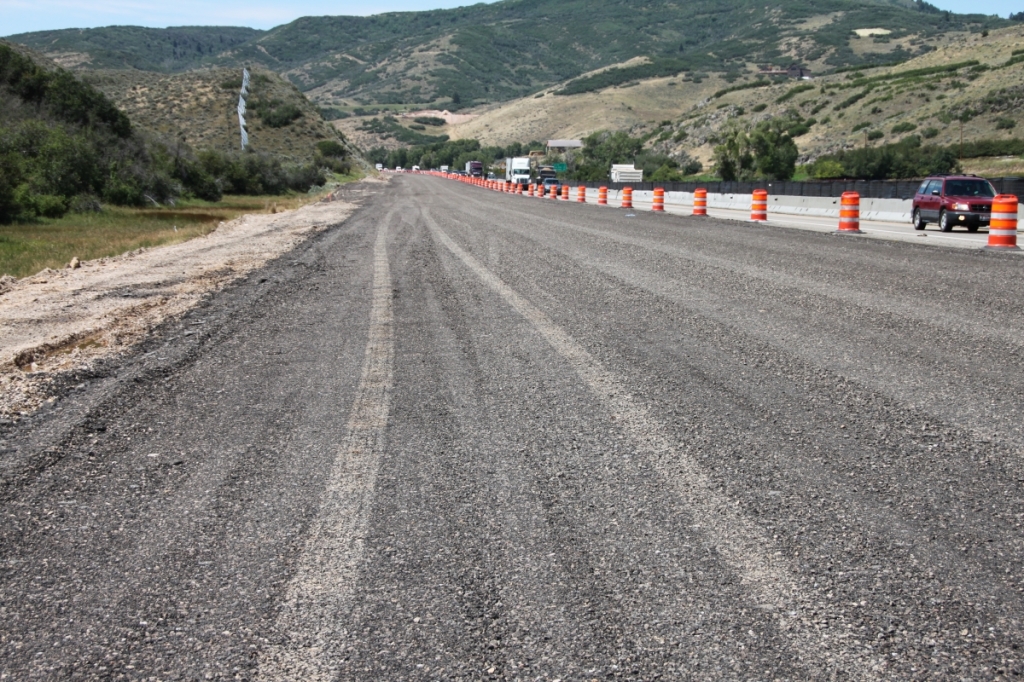 I-80 prior to the ePrime application.
Starting with the eastbound lanes, the plan was to lay 12 inches of PCCP atop the CTAB. Underneath the concrete, UDOT decided to use CTAB to reduce the cost of removing and replacing the existing base. The application of CTAB was the first of its kind along I-80. This decision was supported by research conducted by Lonnie Marchant, UDOT's Region Two Materials Engineer, as well as Spencer Guthrie, a Brigham Young University Professor.
ePrime was key to the project's success. The prime coat protected the pavement from weather and construction traffic for 7 days as the cement cured. The eco-friendly prime coat's dust prohibiting properties would also prove beneficial, as it would improve safety and visibility with the heavy construction traffic.
Application Process
Cold mountain weather can cause chaos on roadways and is often a source of road cracking in Utah due to the many freeze/thaw cycles that occur during winter months. It can be an even bigger issue during road repair and preservation operations. Thankfully, weather conditions were mild throughout the entire first phase of the project aside from a few summer afternoon rainstorms.
Construction began on the eastbound side of the roadway, with traffic closures beginning July 2014 and lasting until December 2014. The process began with the milling of 5 inches of the existing pavement. Then, 4 additional inches were milled and mixed with 7% cement. These 9 inches made up the CTAB layer. ePrime was applied to the base at a shot rate of 0.15. It aided adhesion with the subsequent layer and protected the underlying layer from damage during this critical stage. Prior to paving the concrete overlay, ePrime protected the CTAB from being ripped open under heavy construction traffic. ePrime held up and also sealed the surface of the CTAB from moisture intrusion while providing a bonding layer. Finally, twelve inches of PCCP were placed on top, and ePrime promoted bonding with the CTAB layer. UDOT and Geneva Rock Products were pleased with ePrime's performance, particularly that it upheld its reputation for providing a quick cure. They plan to continue using ePrime in future projects.
Results
Overall, UDOT is very satisfied with this project. In addition to the CTAB, deficient super elevations were corrected, concrete barriers were updated and new drainage features were added, including reconstructed inlets, pipe replacements and new pipe liners. Also added were new wildlife escape ramps, signage and pavement markings. The entire process will be repeated on the westbound side, including replacement of the westbound bridge beginning in the spring of 2015.
Ergon A&E representatives were involved with the project since its inception. Area Sales Managers Greg Hunt of Las Vegas, NV, and Todd Vargason of Fontana, CA, came to Utah to offer their knowledge and expertise on the first day that ePrime was applied. Las Vegas Facility Manager Michael Holst had a large role in the production and shipping of materials to Salt Lake City, UT. Throughout the process, Ergon A&E's North Salt Lake City, UT, Production Manager Brad Offinga and Facility Manager Tracy Bryan diluted and maintained the ePrime, while ensuring that the contractor had ample supply. Ergon A&E will continue to advise and assist Geneva Rock throughout the westbound phase of this project.