Benefits of eTac:
Trackless
Superior bond strength
Significant reduction in delamination
Better adhesion to roadway pavement sections
---
Conventional tack coats help bond asphalt layers together but, in some cases, can be susceptible to tracking out across the jobsite and nearby roads. That's one of the reasons Ergon developed eTac, a unique formulation proven to provide exceptional bond strength without tracking. These qualities are why eTac was the bond coat of choice for two westbound lanes of Lone Mountain Road in Las Vegas, Nevada.
What is eTac?
eTac is a trackless bond coat emulsion that reduces slippage and provides strong adhesion between pavement sections. Essentially, it creates a durable and flexible composite pavement. eTac is applied atop the base asphalt to serve as the bonding mechanism for the subsequent asphalt surface layer. Scott Metcalf, Ergon's Vice President of Pavement Preservation & Specialty Products, puts it this way: "Take plywood, for example. One thin layer of wood isn't very strong or able to support much weight, but if you bond multiple pieces together, or laminate them, they are very strong, flexible and supportive. That's what eTac does for pavements."
---
Lone Mountain Project Details
---
Prep Work —During eTac demos conducted at Ergon's Las Vegas emulsion plant, multiple shot rates were tested to find the desired emulsion distribution. Ergon representatives were on hand during testing to ensure the optimum spray pattern was achieved.
Application Highlights
In November of 2018, eTac was applied on two hot mix pavement mats at a total length of one-and-a-half miles along the westbound lanes of Lone Mountain. The shot rate was 0.06 gallons per square yard. Once applied, eTac broke within six to seven minutes. And because it's trackless, when construction traffic returned within 20 to 25 minutes, material was not tracked onto newly constructed curbs and gutters. Clark County was pleased with these initial results, but wanted to test core samples that would compare eTac's bond strength to conventional emulsions. The results would determine whether or not the county would continue using eTac on this project and others in the future.
Blind Study Highlights
Clark County sent blind core samples from the eTac project, and also from a conventional tack application on the same road, to NCAT's laboratory for shear testing. Results showed eTac yielded far superior bond strength (psi) numbers than the traditional tack.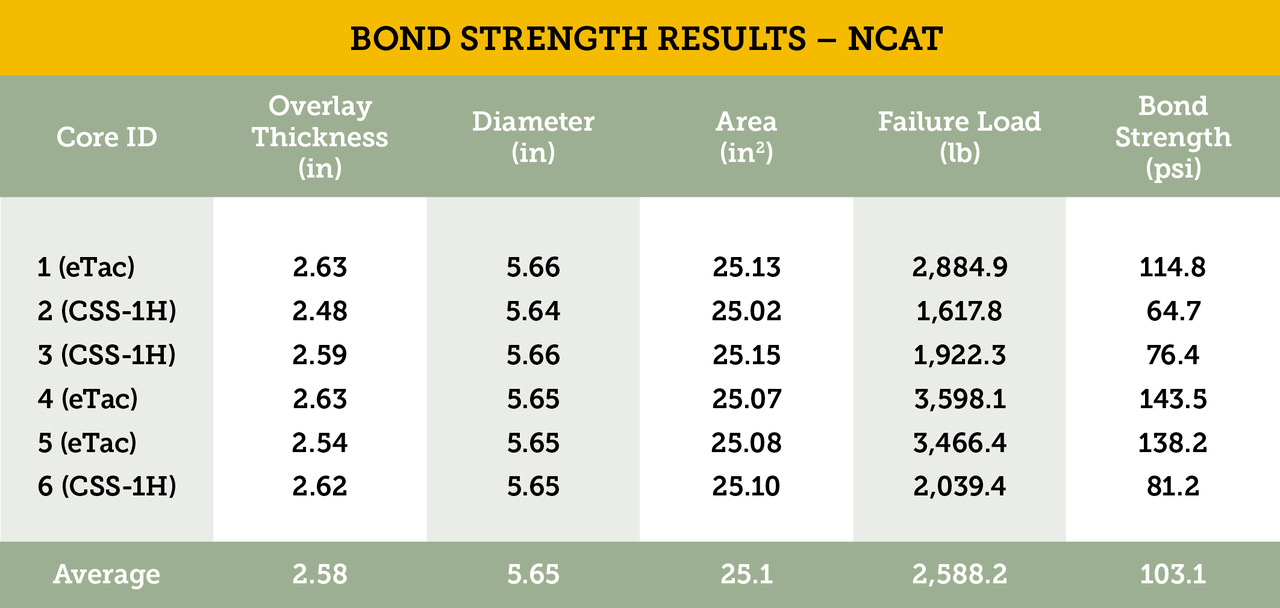 Status of shear testing for Clark County's tack cores as of January 29, 2019. Data provided by NCAT. (Note: Any number over 100 psi is considered passing by some state agencies.) NCAT provided core IDs as numbers (1-6). The cores were identified and renamed to reflect the specific products for this article only.
---
NCAT's results showed eTac yielded far superior bond strength numbers than the traditional tack.
Clark County was confident in eTac's performance, and used it to continue the reconstruction of Lone Mountain Road. In fact, the county was so impressed that it took this opportunity to update its tack/bond coat specification based on desired performance attributes. The shear testing results by NCAT provided the county with increased confidence in the long-term benefits of eTac, including reduced slippage and delamination for a safer road built to last. Contact your local Ergon representative for more information on how your roads can benefit from eTac.